Fort Makers Opens Permanent Exhibition Space on the Lower East Side
Interview with creative director Nana Spears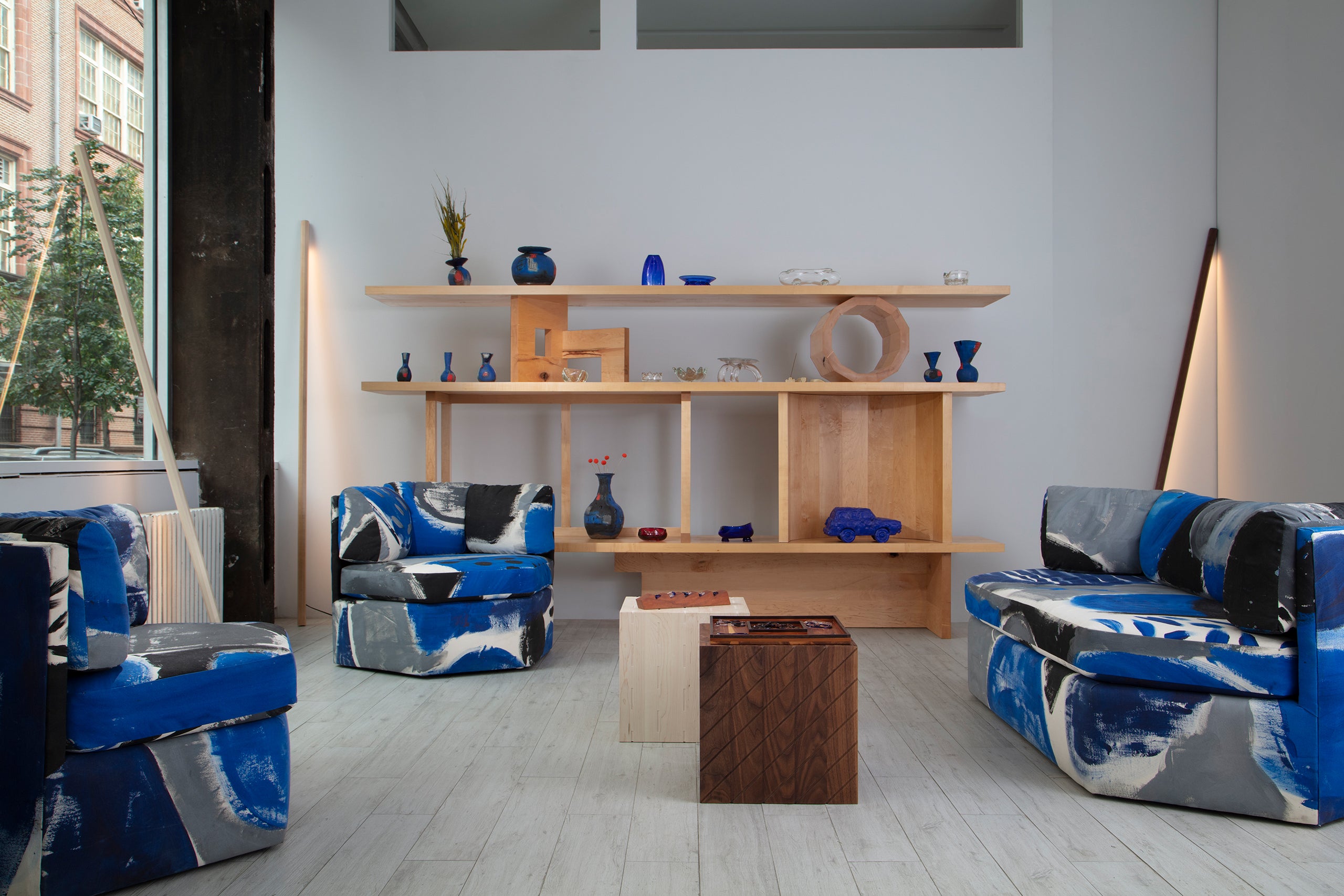 Who are Fort Makers, and what is Fort Makers?
Formally speaking, we are an art and design studio, and now we have a store on Orchard Street that acts as a showroom and installation space. But actually we're a group of friends who are artists who make things that people can live with forever, from furniture and living to objects d'art that will always make you smile. I like to think of us as a band—everyone plays a different instrument, but together we create music, with different collaborators appearing on stage.
How does the Fort Makers gallery differ from the studio practice?
The gallery is really a manifestation of ten years of work at Fort Makers. We want to create stories around the objects that we create, and put them in dialogue with each other, so we came up with an exhibition calendar. Every six to eight weeks at Fort Makers, we present a new themed installation with specially commissioned work interacting with existing products. The gallery is an opportunity for us to world build—we want people to feel like they're entering an experiential space—and to interact with the public. The space is really always going to be in flux, similar to the museums and artist spaces that inspire us.
What do you like about the Lower East Side?
We want the store to feel like a community gathering spot as well as a store, and in that way it's an extension of the friendships that make Fort Makers possible. We just launched "Sundays Around Orchard," a block walk where we help promote the amazing exhibitions and happenings in the neighborhood we're so proud to call home.
The usefulness and artisan qualities of design has allowed it to penetrate the art world in productive ways. How is Fort Makers in conversation with art history?
People have always challenged what art is, especially in the realm of functional art, and we do too. The Bauhaus, Donald Judd, and Noguchi all made the argument for design objects as art. It seems to me that every idea is related to something that happened in the past. Art is really one long conversation, and we're participating in it, talking to the dead, and being inspired by them.
The spirit of play is everywhere in Fort Makers goods. How did you free up your collaborators and co-conspirators to have the freedom to design from the standpoint of curiosity and innovation?
It's a bit of a mandate at Fort Makers that our artists have fun. I think a lot of artists live in somewhat lonely spaces, and they have to exile themselves to create. But for me, as creative director, it's really my job to be on the periphery as the cheerleader and editor. I want people to take risks, and show me their ideas in utero. I think this willingness to have mistakes made on my watch helps everyone work from a place of experimentation and excitement.
Everything in The Blue Room looks different but feels the same, as if every object shares in a happy secret. How does Fort Makers pull that off?
With the in-store exhibitions, everything starts with one idea. I try to breathe this idea into every project, so that all the objects are made within the parameters of this concept. But it's just a jumping off point. There were many things in The Blue Room, for instance, that weren't blue. This made sense to us, because the idea was really modernism. I had visited Nice, France, and took in Villa E-1027, the Eileen Gray house, the Corbusier cabin, and been very moved by the Yves Klein work I saw. The Fort Makers store is walled in glass—I think of it as a modernist glass house—and it made sense that we would be in conversation with the cleanliness and abstract nature of modernism.
A lot of furniture at Fort Makers is surprisingly versatile. For instance, Noah Spencer's coffee table can lie flat, or sit upright and transform into a desk. Can you explain what influences this interest in tactile design?
I would say that an object has more value when you can do more things with it, show it in multiple ways in your home, and make your space feel fresh. I'm interested in hyper-functionality as a design concept. I think so many of our objects have tactile qualities because they are meant to be handled and integrated into your home as a facet of your personality. Everything we make is really personal to us—we don't outsource anything. It's handmade and meant to be handled to your specifications.
Fort Makers works in almost every medium, and has a surprisingly diverse portfolio because of it. There's versatility in the DNA that seems unique. Can you explain this desire to continue branching out?
In the decade we've existed I think slow growth, experimentation, and versatility have been at the core of our practice. We want to keep learning new things, and not get stuck. It's important to follow a spark, and see where it leads. I never want to work with someone who is making something they've grown tired of. For this reason, Fort Makers has made things in almost every medium, from stage design, dress and pattern making, quilts, chairs and sofas, lights, earrings, public art. We will continue to pursue new avenues of expression.
What house do you imagine Fort Makers in? Who is your ideal buyer?
I think the average Fort Makers shopper is experimental and forward thinking. Colorful is really a way to describe our aesthetic. Our furniture does not shy from having a personality. It costs money to put us in your home, that's true, but we're currently working on smaller items at lower price points for every consumer.
You have a background in film, how does that infuse your design practice?
Often in graduate school, I was the person in group projects who was selected to be in charge, organizationally, and I think what I do now is akin to being a director of a film. Film is one of the most diverse mediums we have. It draws so many specialists to it. It is the pinnacle of what collaboration can do. I think Fort Makers is very interested in infusing a lot of ideas into a space and coming out with a clear cohesive brand moment on the other side.